ENGLISH
ESPAÑOL
PROVITA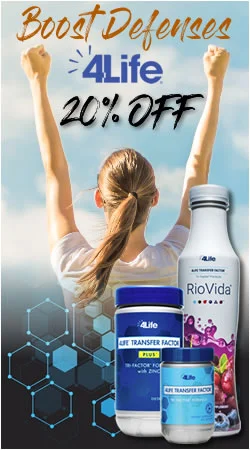 Quantum Health Analyzer 41 Reports (English/Spanish Version)
The Quantum Health Analyzer has one year Warranty
Accessories Description:
Main Body x 1
Detecting Handle x 1
Software CD x1
USB Softdog x 1
USB Cable x 1 USB
Manual x 1
Specifications:
Weight: 1.5 Kg
Size 180mm x 115mm x 46mm
Operating system: 2000, XP, VISTA and Windows 7 Windows 8 32 bits & 64 bits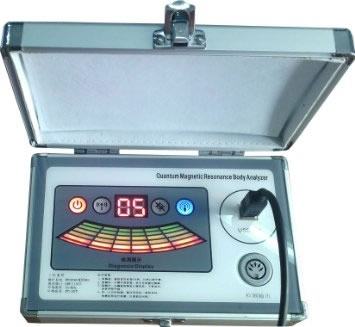 Multiple approx indicators of health can be obtained within minutes. This analysis method is designed to save your time and energy. The database of the analysis system has been established with scientific method, strict health statistic treatment and demonstration of a large number of clinical cases, leading thus to analysis.
By holding the sensor in your palm, hundreds of health data will be obtained within minutes from your body. This is absolutely not science fiction; It is the epoch-making high-tech quantum resonant magnetic analyzer.
The human body is a collection of a large number of cells, cells in continuous growth, development, differentiation, regeneration, apoptosis, cell pision through its own continuously self-renew. Adults per second about 25 million cell during pision, the body's blood cells per minute, a rate of about 100 million continuously updated, in cell pision, growth and so the process, constitute a basic unit of cell nuclei of atoms and extranuclear electron of those charged body also wasted no time in high-speed movement and changes, thus constantly sending out electromagnetic waves. The electromagnetic signals emitted by the human body represents a specific state of the human body, human health, sub-health and disease, under different conditions, the emitted electromagnetic signals are different, if they can determine out of these specific electromagnetic wave signal, we can determine the life of the human body.
You're Health Status in one Minute away with Hi-Tech Quantum Analyzer
Human body is an aggregate of numerous cells, which continuously grow develop, split, regenerate and die. By splitting up, cells renew themselves. For adult people, about 25 million cells are splitting up every second and blood cells are constantly renewing at a rate of about 100 million per minute.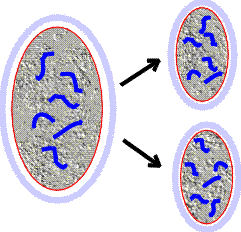 In the process of cellular split-up and renewal, the charged bodies of nucleus and extranuclear electrons as the basis unit of a cell are moving and changing ceaselessly at a high speed as well, emitting electromagnetic waves without interruption. The signals of electromagnetic waves emitted by human bodies represent the specific condition of human body and therefore, different signals of electromagnetic waves will be emitted by the conditions of good health, sub-health, diseases, etc. The conditions of life can be analyzed if such specific electromagnetic wave signals can be analyzed.
The quantum resonant magnetic analyzer is a new instrument to analyze such phenomenon. The weak magnetic frequency and energy of human body are collected by holding the sensor, and after amplification by the instrument and treatment by the built-in micro-processor, the data are compared with the standard quantum resonant spectrum of diseases, nutrition and other indicators incorporated in the instrument to judge whether the sample waveforms are irregular using the Fourier approach.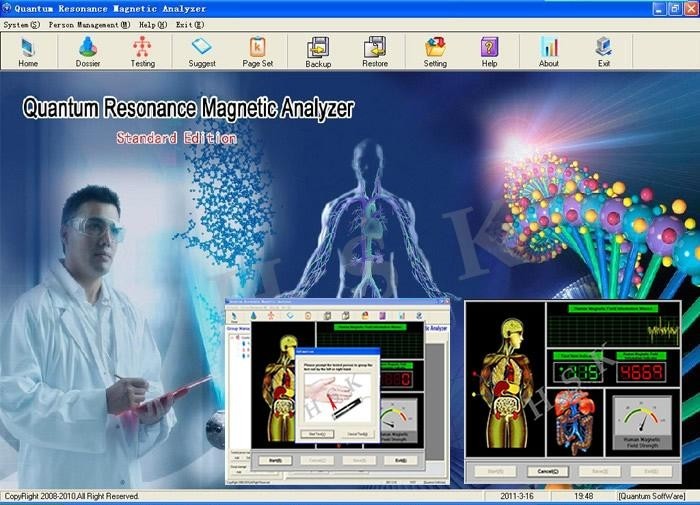 Analysis and judgment can thus be made on health condition and main problems of the testee based on the result of waveform analysis, as well as standard protective and curative proposals.
Quantum physics describes laws of energy at the quantum level (a "quanta" or discrete particle can be a molecule, atom, nucleus, or micro particle). Discoveries in quantum physics (micro world) are helping us to understand the phenomena of our macro world. The MRA is able to measure, for the first time, quanta in micro levels smaller than molecules. This allowed Dr. Emoto to discover why diseases occur.
According to Dr. Emoto, Hado is a vibrational frequency, resonance wave -- it is the source of energy behind the creation of all things. (Hado is the specific vibrating wave generated by the electrons orbiting the nucleus of an atom). A field of magnetic resonance is always present wherever Hado exists. Thus, Hado can be interpreted as the magnetic resonance field itself, which is one type of electromagnetic wave. MRA measures the magnetic resonance of Hado. From his research with MRA, Dr. Emoto concluded that, "all things lie within your own consciousness." Thus, he believes that we should do our best to raise our Hado level by doing things such as saying blessings over our food and water, drinking good water and not accumulating negative feelings.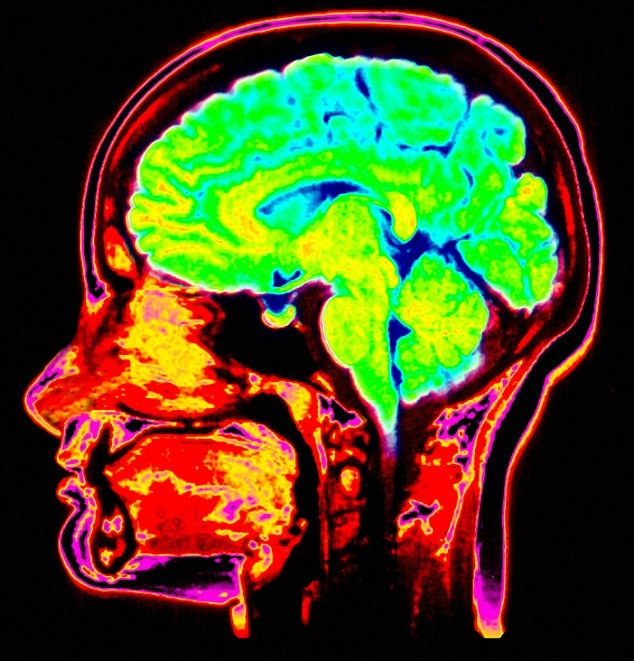 Analysis Items
The method of quantum resonant magnetic analysis is an emerging rapid, accurate and non-invasive spectral testing method and particularly suitable for comparison of curative effects medicine and health products, and check of sub-health conditions. The main analysis items are over 30, including cardiovascular and cerebrovascular condition, bone mineral density, trace elements, blood lead, rheumatism, lung and respiratory tract, nephropathy, blood sugar, stomach and intestines, liver and gall, cranial nerves, gynecology, prostate, bone disease, the trace elements of selenium, iron, zinc and calcium, etc.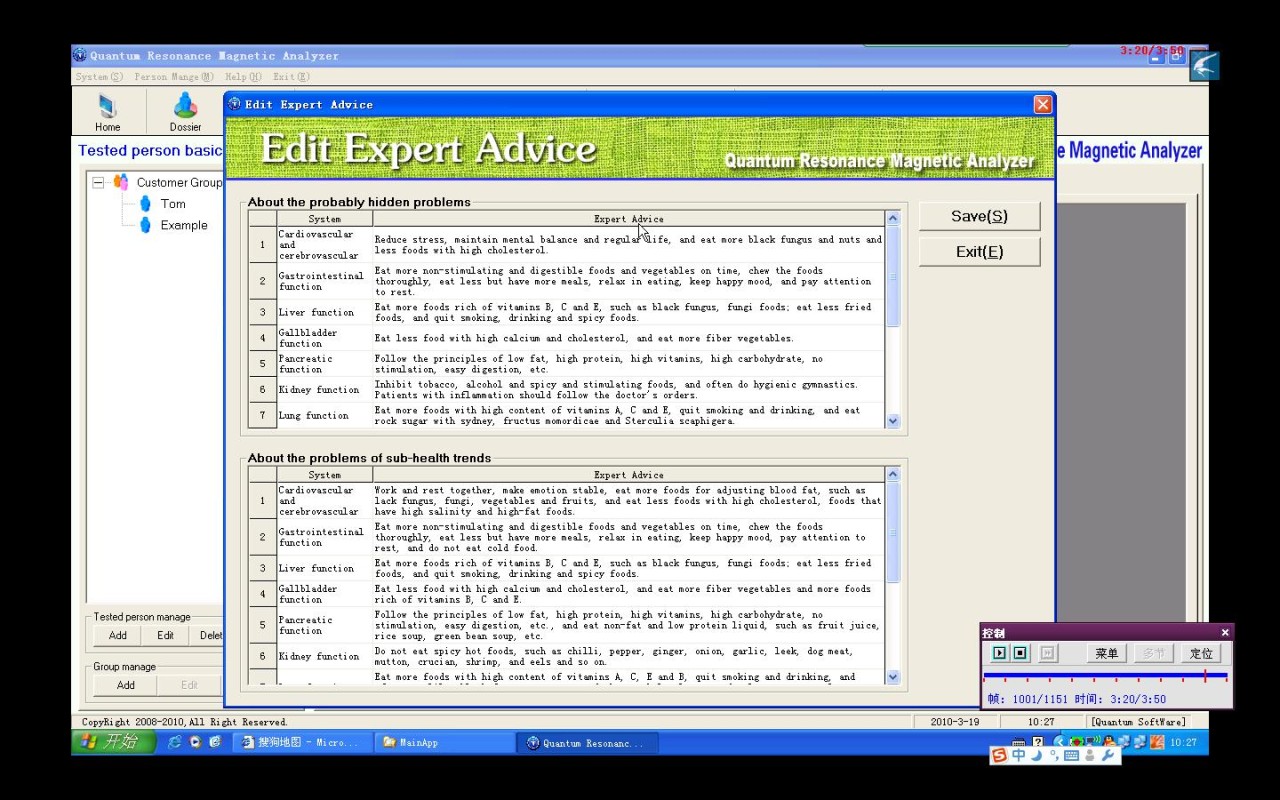 Functional Characteristics
Prediction without symptoms: With only 10 or so cells of pathological change, the analyzer can capture the change pathological changes of cells and predict the precursor of disease. By taking health-care actions at this moment, you may be enabled to effectively prevent the various chronic diseases.
Speed and accuracy: Multiple indicators of your health can be obtained within minutes. This analysis method is designed to save your time and energy. The database of the analysis system has been established with scientific method, strict health statistic treatment and demonstration of a large number of clinical cases, leading thus to a high analysis accuracy.
Non-invasive and painless: The analysis will tell you the condition of your health without hemanalysis or radiography.
Simple and convenient: It is easy in operation and in general, people will be able to analyze and interpret the result through short-term training. Health check can be performed in any place and at any time, saving the time of patients. The cost for analysis is adequate and can be accepted by most consumers.
Comes with both Spanish and English languages
(33 reports in common for Male and female, 3 reports for male , 3 reports for female , 1 report for Kids, 1 Comprehensive Report Card)
Cardiovascular and cerebrovascular
Gastrointestinal function
Liver function
Gallbladder function
Pancreatic function
Kidney function
Lung function
Brain nerve
Bone disease
Bone mineral density
Rheumatoid bone disease
Bone growth index
Blood sugar
Trace element
Vitamin
Amino Acid
Coenzyme
Endocrine system
Immune system
Human toxin
Heavy Metal
Basic physical quality
Allergy
Skin
Eye
Collagen
Large intestine function
Thyroid
Obesity 3
Channels and collaterals
Pulse of heart and brain
Blood lipids
Prostate(male)
Male sexual function(male)
Sperm and semen(male)
Element of human
Gynecology (female)
Menstrual cycle(female)
Breast(female)
ADHD(kids)
Comprehensive Report Card
We also recommend these products: